Trophy Dolphin to me is anything that brings back fond memories, whether it's  from the fish being the biggest youve ever caught, to celebrating say … a Divorce.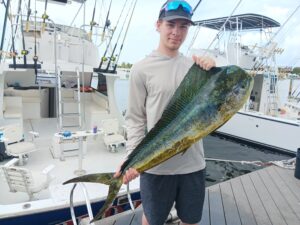 The crystal-clear waters surrounding Key West, Florida, are renowned for providing      anglers with incredible fishing.      opportunities. For those seeking an exhilarating adventure targeting trophy Dolphin (also known as Mahi-Mahi), booking a trip aboard the Charterboat WILD BILL is an excellent choice. With its experienced crew, state-of-the-art equipment, and exclusive fishing spots, the WILD BILL promises an unforgettable fishing experience.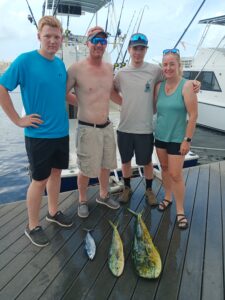 The crew aboard the WILD BILL is comprised of skilled and knowledgeable professionals who are passionate about fishing. With years of experience and an extensive understanding of the local waters, they are well-equipped to assist both novice and experienced anglers. The charterboat is equipped with the latest fishing gear, ensuring that every guest has the best chance to reel in a trophy Dolphin.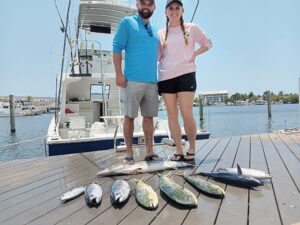 Key West's waters are teeming with trophy Dolphin, making it an ideal destination for anglers. These beautiful and acrobatic fish are renowned for their vibrant colors and powerful leaps out of the water, providing an adrenaline rush like no other. The local charterboat crews combine their knowledge of offshore currents, temperature breaks, and underwater structures to help guests target the best fishing spots where trophy Dolphins are known to congregate.
A trip aboard the WILD BILL is not just about fishing; it's an all-inclusive adventure. As you venture further offshore in search of trophy Dolphin, you'll have the opportunity to witness stunning views of the Florida coast and encounter an array of other marine life, such as graceful sea turtles, flying fish, and even majestic whales. The crew is always happy to share their knowledge and engage guests in educational conversations about the local ecosystem, ensuring a well-rounded experience.
     Embarking on a fishing excursion with the Charterboat WILD BILL off the coast of Key West, Florida, offers an exceptional opportunity to catch trophy Dolphin. With a knowledgeable crew, top-of-the-line equipment, and breathtaking views, this adventure promises to create lasting memories for all who embark on it. So, grab your fishing gear and get ready for the trip of a lifetime!