Dolphin Fishing in Key West can be a Trip of a lifetime.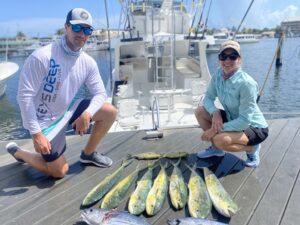 our Guest from Naples,Fl.
Dolphin fishing w our Guest were from Boston on a 6 hr trip in search of Dolphin,Sailfish. The weather was a beautiful 75 degrees w a wind out of the ESE  the seas on the Atlantic were a 2 to 4 fts. We started around 400 ft of water just south of Sand Key light.
First round of Dolphin did not disappoint. A few Horse Bonitos were a Good warm up for our crew. A few Sailfish we're still being Caught, but not as Hot as previous 2 days in the morning.
We decided to get some diner, so we hit the reef for some Cerro, Yellowtail snapper. We caught several fish on the reef and decided to spend the last hour offshore.
Great choice, as fate would have it a nice bull and Cow dolphin were waiting in the midst to ambush our ballyhoo.  What a Great way to end a trip….

I filleted their catch and off to http://Danteskeywest.com they went to enjoy a nice Mahi/Snapper/Cerro diner!!
We look forward to taking you fishing on your next trip to Key West. Fishing is Very Good right now, and the town is busy. Call or check our availability through the BOOK NOW Link.
Also If your looking for a Great Trophy for your House or Office we use only the BEST http://GreyTaxidermy.com
Give us a call to schedule your next day on the water