Grouper season in the Florida Keys is from May 1st- Dec.31st. There is just a few more Days until this Delicious ocean treat is in season to catch and Keep.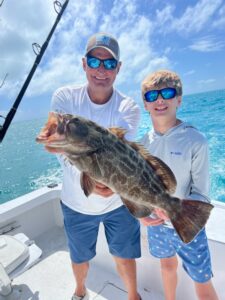 Grouper is a type of fish that is commonly found in the waters surrounding Key West, Florida. This fish is prized for its mild, delicate flavor and is a favorite of many local fishermen and chefs.
There are various types of grouper found in Key West, including the gag grouper, black grouper, and red grouper. Each variety has its own unique taste and texture, and they can be prepared in a variety of ways, including grilled, fried, or baked.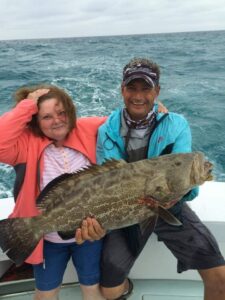 In addition to being a popular food fish, grouper is also a sought-after game fish, with many anglers traveling to Key West specifically to try their luck at catching this impressive fish. Grouper fishing charters are widely available in Key West, but we are one of the best. So be sure and book your charter soon to ensure your fishing day.
After we get in and I fillet the fish bring your catch to Dantes and have it cooked to Perfection!
We look forward to fishing with you in the future 😊
Check out some our recent catches