Sailfish and Tuna are some of the hardest fighting fish in the Atlantic. Our good friends Dale and Pam caught a nice catch of Blackfin tuna, and Pam caught and released a Full grown Sailfish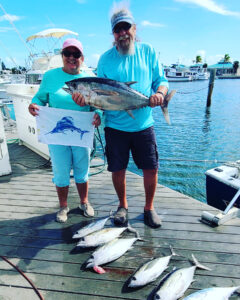 In the crisp November breeze off the shores of Key West, Florida,Dale, and Pam. Our  anglers aboard the charter boat WILDBILL experienced the thrill of a lifetime as they reeled in not only the elusive Blackfin Tuna but also the majestic Sailfish. The azure waters of the Gulf Stream provided the perfect backdrop for this angling adventure.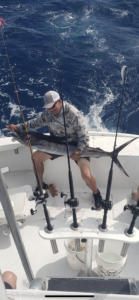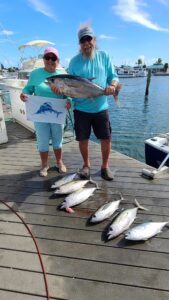 The Blackfin Tuna, known for their speed and agility, put up a spirited fight, challenging the skills of the seasoned anglers on board. The whirr of reels and the tension in the air heightened as these prized catches danced beneath the surface. The experienced crew of WILDBILL, with their extensive knowledge of the local waters, played a crucial role in navigating to the prime fishing spots where these elusive species thrive.
As the sun dipped below the horizon, painting the sky in hues of orange and pink, the anglers' perseverance paid off with the added reward of a Sailfish. The sleek and acrobatic Sailfish showcased its vibrant sail-like dorsal fin, creating a spectacle against the twilight sky.
This November escapade aboard WILDBILL not only yielded bountiful catches but also etched memories of an unforgettable fishing expedition in the heart of Key West's renowned waters.