Snapper is a mainstay on the reefs surrounding Key West Florida. There are several varieties of Snapper including Yellowtail,Grey,Mutton,Cubera, and Lane Snapper.
Bring your  Snapper to Dantes to have you catch cooked to perfection
Check out some of our recent catches
Nice afternoon trip. Sailfish, Mahi and Tuna
any Questions you may have please feel free to call us Direct or Email us at: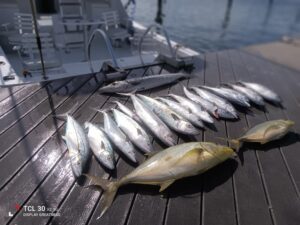 Offshore fishing is starting to heat up. February are not the best conditions for fishing offshore in Key West. BUT the reef and inshore fishing is Very Good. Snappers, Mackeral, and Barracuda are the main catch w Cobia, and King Mackerel making the majority of the catches on our dock.
March is a very busy time for us in Key West. Be sure to book as soon as you know your vacation plans as March is starting to Fill up.
We got you covered on everything you need to have a Wonderful time on the water. Snapper fishing to Marlin fishing. From Sunscreens, to Drinks, to Tackle. Just bring yourself (well rested) and we'll do the rest.