Bull dolphin are make dolphin with a very distinctive hump on the forehead.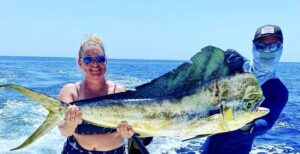 Title: Bull Dolphin Fishing Offshore in Key West, Florida
Key West, Florida, is a paradise for anglers, with its crystal-clear waters teeming with a wide variety of fish. Among the most sought-after species is the Bull Dolphin, also known as Mahi-Mahi or Dorado. These vibrant and acrobatic fish provide an exhilarating fishing experience that draws anglers from all over the world.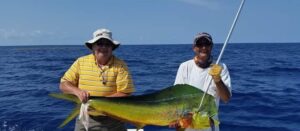 Bull Dolphin are known for their dazzling colors – vibrant greens, blues, and yellows – which seem to shimmer in the sunlight. These fish are not only a sight to behold but also a thrilling catch for any angler. They are known for their incredible speed and agility, often leaping out of the water in a spectacular display of acrobatics when hooked.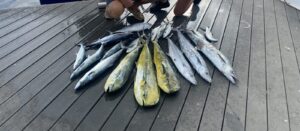 The best way to catch Big Dolphin in Key West is by heading offshore. These fish prefer warm, deep waters, making the Gulf Stream that flows near Key West an ideal hunting ground. Anglers typically venture miles offshore, where they troll for Bull Dolphin using a variety of baits and lures.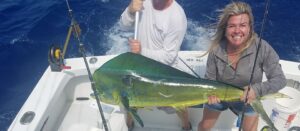 The excitement of Dolphin fishing lies not only in the chase but also in the delicious reward.  Dolphin is prized for its firm, flavorful flesh, making it a sought-after catch for both sport and table fare. Many Key West charter boats specialize in  Dolphin fishing, ensuring that anglers have the best chance to hook these magnificent fish.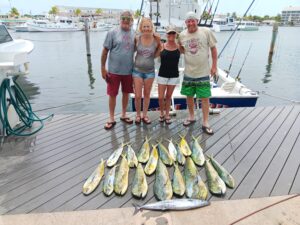 So, if you're looking for an unforgettable offshore fishing adventure in Key West, don't miss the opportunity to target Bull Dolphin. With their breathtaking beauty and exhilarating fight, they are a true jewel of Florida's deep-sea fishing scene.
Take your catch to dantes to have your catch perfectly prepared for only ten bucks.
"We look forward to fishing with you"