Spearfish are an exotic species caught Rarely off Key West. I've caught 1 fishing 25 years in Key West. Friday our anglers aboard the WILDBILL enjoyed a delightful day of dolohin fishing, and not 1, but 2 Spearfish.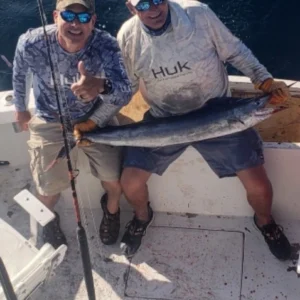 Catching a spearfish while trolling aboard the Charterboat WILDBILL in Key West, Florida was an exhilarating experience like no other. As the sun painted the morning sky with shades of orange and pink, our adventure began. The anticipation in the air was palpable as we ventured into the azure waters of the Gulf of Mexico, known for its rich marine life.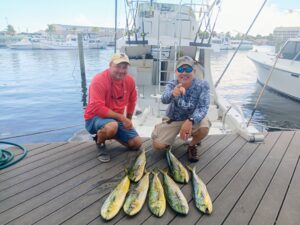 Lets Go Fishing …Captain Bill, a seasoned expert, skillfully navigated us to prime fishing grounds. Catch your next Trophy with Wild Bill charters, a well-equipped charterboat, offered us comfort and top-notch gear. With lines cast and lures dancing on the surface, it wasn't long before the ocean revealed its bounty.
Suddenly, the reel sang its sweet song of tension as something powerful took the bait. The adrenaline rush was electrifying as the spearfish fought with incredible strength. It was a battle of wits and endurance between man and fish.
Hours felt like minutes as we skillfully worked to reel in our prize. The sun had climbed high when, with a final surge of energy, the majestic spearfish breached the surface. Its iridescent colors shimmered in the sunlight, a true testament to the beauty of the deep.
With collective effort, we landed the spearfish on the deck, a moment of triumph and respect for this magnificent creature. It was a memory etched forever in the annals of our fishing adventures, a day when the Charterboat WILDBILL in Key West, Florida, delivered not just a catch but an unforgettable journey into the heart of the ocean's mysteries.