Wahoo is a Great game fish to fight no matter what body of water your fishing on anyday anywhere. Wahoo are one of the fastest fish in the ocean…also one of the tastiest! We had the delight of catching 3 of these bad boys on Sunday.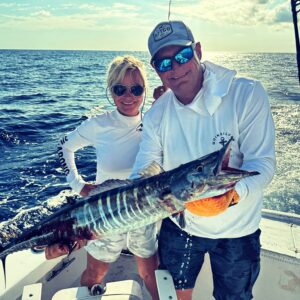 Wahoo is a popular game fish found in the waters around Key West, Florida. Here are some tips for catching Wahoo in Key West: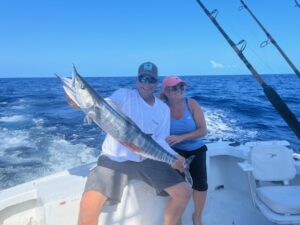 1. Choose the right gear: They are fast and powerful, so you'll need heavy-duty gear to catch them. Use a high-speed reel with a heavy line (at least 50-pound test) and a strong rod.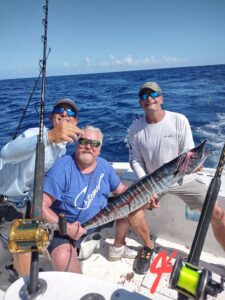 2. Know where to look: these rockers are often found in deep, offshore waters. Look for areas with sharp drop-offs or underwater structures, such as wrecks or reefs.
3. Use the right bait: these fish are known for their love of fast-moving prey, such as bonito, squid, or ballyhoo. Use lures or live bait that mimic these types of fish.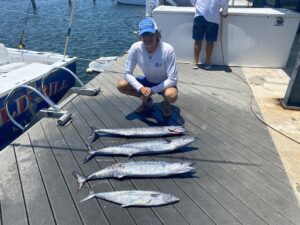 4. Troll at high speeds: Wahoo are fast swimmers, so you'll need to troll at speeds of 10-15 knots to attract them. Use planers or downriggers to keep your bait at the right depth.
5. Be patient: they can be elusive, so be prepared to spend some time on the water before you get a bite. Keep trolling and experimenting with different baits and speeds until you find what. Our anglers took their fish to http://Danteskeywest.com to have their Wahoo cooked to perfection.
          Check out some of our recent catches that we rounded up on the WildBill the past month.
Be sure and book your trip as soon as possible as our Summer fishing season is starting to book up FAST. Remember when booking to call us DIRECT to save on booking fees.
We look forward to making fishing memories with YOU