Good catch happens here….  we put on an exhibition on how to catch inshore fish. We caught several Macks,Jack's, and some Big Kingfish…biggest coming In At 42 lbs.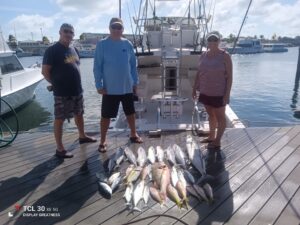 Key West is a small island located at the southernmost tip of the Florida Keys. This beautiful island is surrounded by crystal clear waters, making it a popular spot for fishing enthusiasts. If you're planning to visit Key West and looking to catch some fish, then you are in for a great adventure. In this blog post, we will take you through everything you need to know about catching fish in Key West.
Types of Fish to Catch in Key West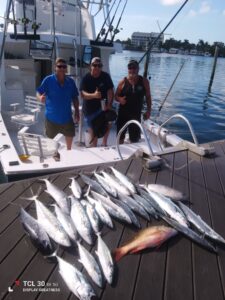 The waters surrounding Key West are home to a wide variety of fish species, ranging from tarpon and bonefish to tuna and marlin. Other popular fish species in the region include permit, snapper, grouper, barracuda, and more.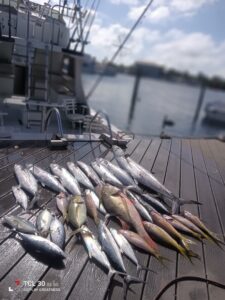 Fishing Techniques to Use in Key West
Before you venture out to catch fish, it's essential to understand the fishing techniques used in the region. Here are some popular techniques used by fishing charters in Key West
We Troll, Live bait, Kite fish, Bottom fish, wreck fish, and fish the reef. Most of our catch goes to our charters. Which whatever they catch they keep. Every now and then our charter doesn't eat fish or can not carry them on their flight so me and Capt Art take some of the leftovers to  http://Danteskeywest.com to have the catch perfectly prepared for only $10 a pound
Check out some of our other awesome catches.
Check out my buddies Sandbar trip…he's very knowledgeable about Key west's back country flats
http://WwwKeyWestlocalSandbar.com
We always like hearing from our clients. So please feel free to email us or Text us for quicker responses.