Slammer Dolphin is the term used to describe Dolphin over 20 pounds
Title: Catching Slammer Dolphin Aboard the Charter Boat WILDBILL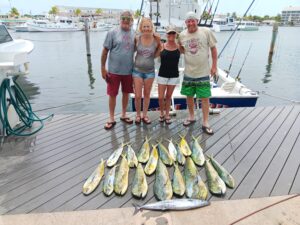 When it comes to exhilarating deep-sea fishing experiences, few moments can rival the excitement of reeling in a "slammer" dolphin (mahi-mahi) aboard the charter boat WILDBILL. Known for its vibrant colors, acrobatic leaps, and delicious taste, the mahi-mahi is a prized catch that attracts anglers from around the world. And aboard the WILDBILL, that thrill reaches new heights.
The WILDBILL charter boat offers avid anglers the chance to venture into the open waters in pursuit of these magnificent creatures. Equipped with state-of-the-art fishing gear and guided by seasoned professionals, the experience promises not only the excitement of the catch but also the joy of the chase.
The thrill begins as the WILDBILL sets sail into the deep blue expanse, where the skilled crew knows the best spots to find the elusive mahi-mahi. These fish are renowned for their striking colors and high-flying acrobatics, often providing a visual spectacle before they even reach the deck.
With the guidance of the crew, anglers can try their hand at various fishing techniques, from trolling to live baiting, maximizing their chances of hooking these prized fish. The battle between angler and mahi-mahi is fierce, with the fish's strength and agility on full display as it fights to escape.
As the vibrant colors of the mahi-mahi break the surface, the sense of accomplishment is palpable. The WILDBILL's crew works seamlessly to ensure a safe and successful landing, transforming the catch into a well-earned reward for the anglers' efforts.
Catching a slammer dolphin aboard the charter boat WILDBILL is more than just a fishing trip; it's an unforgettable adventure that combines the thrill of the chase with the satisfaction of a bountiful catch. Whether you're an experienced angler or a novice, this experience promises to be a highlight of any fishing enthusiast's journey.