Big Dolphin start to show up as the summer months heat up. This Bull dolohin was caught by a jr angler on a trip this week on The WILDBILLKEYWEST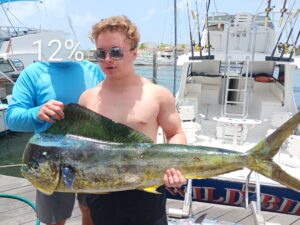 Title: The Ultimate Summer Adventure: Catching Big Dolphin on Charterboat Wild Bill in Key West, Florida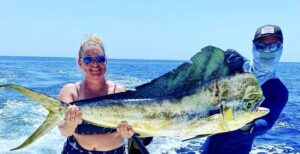 Introduction:
The tropical paradise of Key West, Florida is renowned for its stunning beaches, crystal-clear waters, and an abundance of thrilling activities. One unforgettable experience you cannot miss during the summer months is embarking on a fishing adventure with Charterboat Wild Bill, where you can set out to catch big dolphin. The warm and inviting waters off the coast of Key West provide the perfect playground for these prized gamefish, making it an ideal destination for any angler seeking an exhilarating summer fishing trip.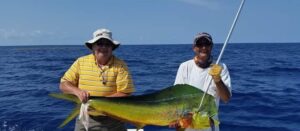 Unleash the Thrill:
Catching big dolphin, also known as mahi-mahi or dorado, is an exhilarating experience that will leave you with unforgettable memories. Charterboat Wild Bill offers the perfect platform for your fishing journey, equipped with experienced guides, top-notch equipment, and a wealth of local knowledge. Their knowledgeable crew will provide valuable insights on dolphin behavior, feeding grounds, and the best techniques for landing these magnificent fish.
Summer Vibes:
Key West's summer season sets the stage for excellent fishing opportunities. As the water temperature rises, a plethora of baitfish and other marine life gather around floating objects like seaweed and debris, attracting schools of dolphin. These agile swimmers are known for their striking colors and acrobatic displays, making each catch a true delight. Whether you're an experienced angler or a beginner, the summer months offer prime conditions to reel in big dolphin.
Beyond the Catch:
While the thrill of landing a big dolphin is unmatched, don't forget to soak in the beauty of Key West's scenic surroundings. The vast blue ocean, gentle breeze, and warm sun create a serene ambiance that enhances your overall experience. Observing the vibrant marine life and breathtaking coastlines as you venture out on Charterboat Wild Bill adds an extra layer of relaxation to your trip.
Conclusion:
Key West, Florida, is a fishing paradise, and the summer months offer an incredible opportunity to catch big dolphin. Embarking on a charterboat adventure with Wild Bill ensures that you have all the ingredients for a successful fishing trip.