Dolphin Dinner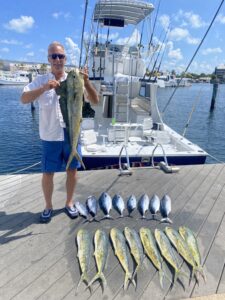 Title: Dolphin Fishing in Key West: A Delightful Adventure in the Crystal Caribbean Waters
Introduction:
When it comes to oceanic adventures in Key West, few activities rival the sheer excitement and beauty of dolphin fishing. With its crystal clear Caribbean waters and abundant marine life, this tropical paradise offers an unforgettable experience for fishing enthusiasts and nature lovers alike.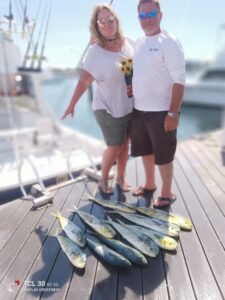 1. The Dolphin Fishing Experience:
Dolphin fishing in Key West allows you to encounter the majestic creatures in their natural habitat. Unlike traditional sport fishing, dolphin fishing involves locating and observing playful dolphins as they swim gracefully through the azure waters. This eco-friendly activity prioritizes the conservation of these intelligent mammals, offering a magical encounter without causing harm to their populations. Get your own Dolphin Dinner
2. Perfect for All Skill Levels:
Whether you're an experienced angler or a novice fisher, dolphin fishing in Key West is accessible for all skill levels. Local fishing charters provide knowledgeable guides who offer expert tips and equipment, ensuring an enjoyable and successful fishing experience. Children and families can also participate, making it an ideal bonding activity amidst the breathtaking backdrop of Key West.
3. A Thrilling Chase:
Dolphin fishing in Key West provides a thrilling chase as you follow pods of dolphins in their pursuit of baitfish. Witnessing these acrobatic creatures flipping and leaping out of the water is an awe-inspiring sight that will leave you captivated. You might even get the opportunity to witness a synchronized display of dolphins swimming in unison, a display of their remarkable social behavior.
4. The Bounty of Key West:
Apart from the exhilarating chase, dolphin fishing offers the opportunity to catch other prized game fish, including tuna, wahoo, and mahi-mahi, which are abundant in the surrounding waters. These bountiful catches can serve as a highlight for those seeking the thrill of sports fishing and the chance to reel in a trophy fish.
Conclusion:
Key West's dolphin fishing experience provides a unique and sustainable way to connect with nature and witness the beauty of these mesmerizing creatures. Whether you're an avid angler or a curious explorer, this activity promises to create unforgettable memories and deepen your appreciation for the marine ecosystem. So, book a fishing charter, grab your fishing gear, and immerse yourself in the exhilarating world of dolphin fishing in Key West.