Wahoo and Dolphin -On todays trip our angler from Missouri, and Florida. They enjoyed a wonderful day of fishing aboard the Wild Bill out of Historic charter boat row Key West.
When it comes to offshore fishing, few destinations can rival the thrill and excitement that Key West offers. Situated in the Florida Keys, this tropical paradise is known for its abundant marine life, including big wahoo and big & Big Dolphin
Take your catch to Dantes $10 pr Lb cooked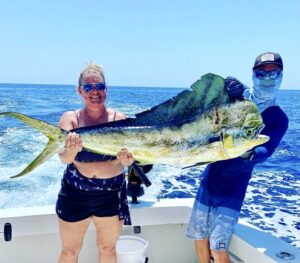 Both wahoo and dolphin are migratory species, known for their speed and agility. Wahoo are commonly found around underwater structures, while dolphin thrive in warm waters near floating objects or weed lines. Before heading out, study charts, weather conditions, and local knowledge to determine the best fishing spots.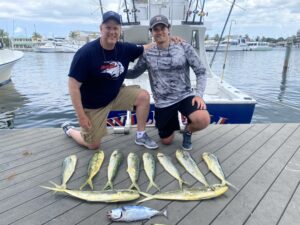 To land these powerful fish, it's essential to have the right equipment. Opt for heavy-duty reel and rod combos, capable of handling the challenge. For wahoo, use fast trolling lures like jet heads, marlin lures, or large spoons. Dolphin, on the other hand, are drawn to brightly colored or live bait such as ballyhoo, squid, or pilchards.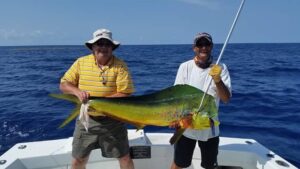 Trolling is a popular method for targeting both wahoo and dolphin. Set your trolling speed between 6-12 knots, depending on the conditions. Use outriggers to extend your spread and cover more water, increasing your chances of a strike. Additionally, planer boards can help take your bait deeper, attracting wahoo lurking beneath the surface.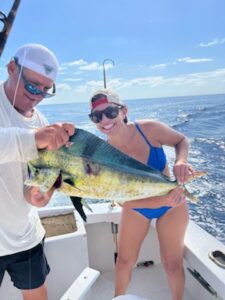 Catching big wahoo and big dolphin offshore of Key West can be an unforgettable experience for any angler. By understanding their habits, using the right gear and bait, employing proper trolling techniques, and being prepared for a fight, you increase your chances of landing these magnificent gamefish. So, grab your fishing gear, head to Key West, and get ready for the adventure of a lifetime! Happy fishing!