Snook are plentiful all Round the coast in the state of Florida. I can honestly say I've caught only 1 Snook in 25 years fishing in Key west. We usually fish offshore and on the reef.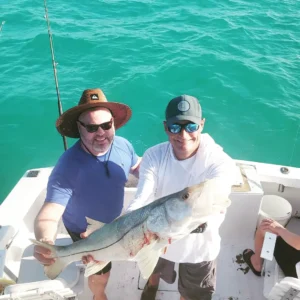 The most surprising thing is that we caught a Snook (my 1) in the same spot exactly 1 year ago today.
Above is a pic of the one we caught 1yr ago
Snook, also known as the linesider, is a popular game fish found in the coastal waters of Florida. This prized species is not only a thrilling catch, but also offers a delicious meal for anglers lucky enough to reel one in. If you're planning a fishing trip in Florida, targeting Snook should definitely be on your to-do list.
To increase your chances of catching Them, it's important to understand their behavior and habitat. Snook can be found inshore, near bridges, docks, mangroves, and grass flats. They are known to be ambush predators, often hiding and waiting for their prey to come close. Taking advantage of their hunting tactics, anglers often use live bait such as shrimp, pinfish, or small mullet to entice these fish.
Timing is crucial when targeting Snook. They are sensitive to temperature changes and prefer warmer waters. Therefore, the spring and fall months, when the water temperature is between 70-78°F, are considered prime seasons for catching Snook. Additionally, tides play a significant role in their feeding patterns, with the outgoing tide being particularly productive.
Remember to familiarize yourself with the Florida fishing regulations as there are specific rules and regulations regarding Snook size limits, bag limits, and closed seasons. Respecting these regulations helps preserve Snook population for future generations.
           Check out some recent catches
Bring your catch to Dantes
To have it perfectly prepared for only $10