Summertime in Key West brings all kinds of different species of fish close to Key West. Mainly Dolphin, but one of the favorite meals of the Blue Marlin is Dolphin….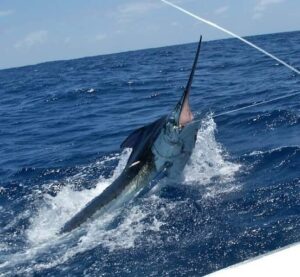 Key West, the stunning tropical paradise situated at the southernmost tip of Florida, is not only known for its vibrant nightlife and rich history but also for its incredible blue marlin fishing. With its crystal-clear azure waters teeming with fish, Key West offers an unforgettable experience for passionate anglers seeking the thrill of capturing the mighty blue marlin.
Blue marlin, renowned for their sheer power and breathtaking acrobatics, are a dream catch for many sport fishing enthusiasts. These majestic creatures can grow to astonishing sizes, with females reaching lengths of over 14 feet and weights exceeding 1,500 pounds. And Key West is the perfect playground for encountering these magnificent creatures.
Setting sail from Key West's bustling marinas, anglers embark on thrilling fishing expeditions into the vast Atlantic Ocean. The exhilarating chase begins as the boat heads offshore into the deep blue. As the anticipation builds, experienced captains and crews guide anglers to the prime fishing spots where the marlin thrive.
Once the lines are cast, it's a waiting game filled with anticipation and excitement. The sheer strength of a blue marlin when hooked is nothing short of awe-inspiring. Anglers must brace themselves for a battle of endurance as the marlin fights fiercely, leaping out of the water and testing the limits of their fishing skills.
Aside from the adrenaline-pumping fight, the picturesque scenery and serene surroundings add to the allure of blue marlin fishing in Key West. The breathtaking colors of the ocean, warm sun-kissed breeze, and the chance to witness other marine life, like dolphins and sea turtles, create an unforgettable experience.
Key West also hosts various fishing tournaments throughout the year, attracting anglers from around the world who seek to compete and earn recognition for their blue marlin catches. These events foster a sense of camaraderie among the participants, making blue marlin fishing in Key West an opportunity not only to reel in an impressive trophy fish but also to create lasting memories and new friendships.
In conclusion, Key West, Florida, with its abundant marine life and stunning oceanic beauty, offers an unparalleled experience in blue marlin fishing. Whether you are an experienced angler or a beginner seeking an unforgettable adventure, Key West is the ultimate destination to chase the mighty blue marlin and create memories that will last a lifetime. So, gear up, cast your line, and prepare yourself for an epic fishing journey in the heart of this angler's paradise.