Sailfish and Dolphin are two highly prized gamefish sought out the World over. Sailfish for the Long Bruising runs, and Aerial jumps. Not unlike the Dolphin, but a different fight all together is the Dolphin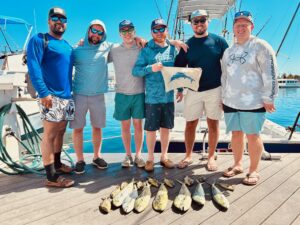 Dolphin and Sailfish are two popular game fish that can be found in the waters off Key West, Florida.
Dolphin, also known as Mahi-Mahi or Dorado, is a fast-moving fish that is typically found in warmer waters around the world. In Key West, they are most commonly caught between April and July when they migrate through the area. Dolphin is a popular target for sports fishermen due to their size, speed, and acrobatic jumps.
Sailfish, on the other hand, are known for their speed and fighting ability, making them a prized catch for many fishermen. They can be found in the waters off Key West year-round, with peak season being from January to April.
Our clients brought some of there catch to Dantes
Check out some of our recent catches
The Wild Bill charter boat is a popular option for fishing trips in Key West, Florida. Captain Art Duplesis, the owner and operator of Wild Bill Charter, has been fishing the Key West waters for over 30 years, ensuring a wealth of experience and knowledge in the area.
The Wild Bill charter boat is a 34foot sport fisherman that is well-equipped with the latest fishing technology and amenities to ensure a comfortable and enjoyable experience for anglers. The boat can accommodate up to six people and offers half-day, three-quarter day, and full-day fishing trips