Shark fishing is challenging, but well worth it. We have several different types of sharks off of Key West including. Hammers,Bulls,Tigers,Lemons,Black tips,Dusky,Sandbar sharks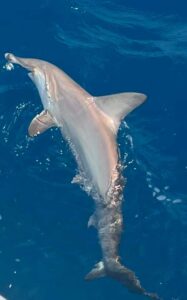 Title: Thrilling Adventures: Shark Fishing in Key West, Florida
Key West, Florida, is renowned for its breathtaking sunsets, vibrant nightlife, and pristine beaches. However, the island paradise offers more than just relaxation; it's also a hotspot for adrenaline-pumping shark fishing experiences that draw adventure seekers from around the world.
Nestled in the azure waters of the Gulf of Mexico and the Atlantic Ocean, Key West provides an ideal environment for shark fishing. Enthusiasts can embark on chartered fishing expeditions, guided by experienced local captains who know the waters like the back of their hands. As you set sail, you'll witness the stunning coastal scenery and feel the anticipation building for the moment you hook onto a powerful predator.
The variety of shark species found in Key West waters adds to the thrill of the experience. From the iconic hammerhead and feisty bull shark to the sleek blacktip and fearsome tiger shark, each encounter promises an unforgettable battle of strength and strategy.
While catch-and-release practices are encouraged to preserve these magnificent creatures, the chance to come face-to-fin with these apex predators creates lasting memories. Remember, it's not just about the catch – it's about embracing the challenge, respecting nature, and fostering a deep appreciation for the ocean's wonders.
In conclusion, shark fishing in Key West, Florida, offers an unmatched blend of heart-pounding excitement and natural beauty. Whether you're a seasoned angler or a first-time fisherman, the opportunity to reel in these formidable beasts in one of the world's most stunning locations is an adventure you won't want to miss. So, gear up, cast your line, and get ready for an unforgettable aquatic showdown!